Invoice? Why didn't he come home from work? I have to go get it. He's never late – something happened. My chest tightens and tears start to roll down my cheeks.
A friendly face appears, smiling warmly, facing me directly. A gentle hand reaches out to me. I go with them and sit in the kitchen. Something smells good.
The man at the table with the kids looks like Bill – I pat him on the shoulder. He smiles. He came home from work; it's good. Come into the kitchen, said the friendly face. Would you like to help with dinner? Is there a potato to mash or maybe you could set the table?
The children are drawing and one of them has a small TV in her hand and she is pointing at the screen. "Look at Nana", she says and shows me colorful things jumping on the screen. I'm at home.
That's what many of us might hope for if we need residential care as we age. We want to feel safe, loved, to participate in the ordinary family life.
With an elderly care system under extreme pressurethe federal government is looking for thousands of volunteers to help with daily chores including talking to residents, brushing their hair and helping them exercise. This follows an announcement that 1,700 Australian Defense Force personnel would help in care homes for the elderly, although less than 200 have been deployed so far.
Dementia Australia chief Maree McCabe last week call for federal budgeting to "ensure that everyone receives the standard of care that we all expect for ourselves". Indeed, the reality of elder care today is a different story.
A sense of loss and failure
Having a sense of security, belonging, continuity, purpose, significance and fulfillment through relationships is what creates a feeling of well-being. When an older person is transferred to an aged care facility, it is usually because their health needs are too complex for their family or partners to manage at home, not because she is not loved.
the latest figures available show around 350,000 Australians using residential care for the elderly.
Advanced age, multiple chronic illnesses, complex drug and treatment needs add to the "activities of daily living»: getting dressed, going to the toilet, eating and moving around.
This move can bring a sense of loss and even failure to residents and families. well-being can suffer.
The federal government has pledged to maintain minimum staffing levels in seniors' retirement homes by 2023.

New research shows that more than 96% of households have work to do before this date. https://t.co/XAsYKpNAPP

— The Conversation (@ConversationEDU) October 5, 2021
The reality of caregivers
Quality care is built on relationships and is person centered over time to get to know the person, to understand their life and preferences. Time is a luxury that is not allowed in the current system.
Care work is reduced to tasks consistent with a factory assembly line approach. Residents are rarely allowed or asked to do things for themselves or help with meal preparation – so skill and purpose are lost.
With a long to-do list, staff are not encouraged to sit with residents – it is not seen as work or vital to their caregiving role. An older social worker we contacted as part of our research told us:
"We are running out of time every time. We have so much to do in too little time. We are unable to assist or meet the needs of all of our residents.
Despite this, older workers often form strong bonds with the seniors they care for. As one caregiver put it:
"When I'm away from work for a few days, I miss my residents and I want to get back to work soon. It's a very sad feeling to see a palliative care resident die. Worse still, family members mourn the loss of loved ones. »
This sense of connection, pathos and responsibility keeps many aged care workers engaged in their work, despite bad rate of pay and intensification of workloads.
Models we could learn from
the World Health Organization advocates a model of care that gives residents a sense of empowerment in a family environment. the Household model is based on a person-centered approach to care where residents plan and decide about their health, well-being and care as much as they can. Households are small-scale houses with eight to ten residents with an environment that they find meaningful and engaging.
Models of small households have been established in the United States and Netherlandsand researchers are showing their positive impact. A few residential aged care facilities in Australia have decided to introduce these models and allow older workers to focus more on quality person-centred care rather than task and time. But of course funding is needed to make this viable.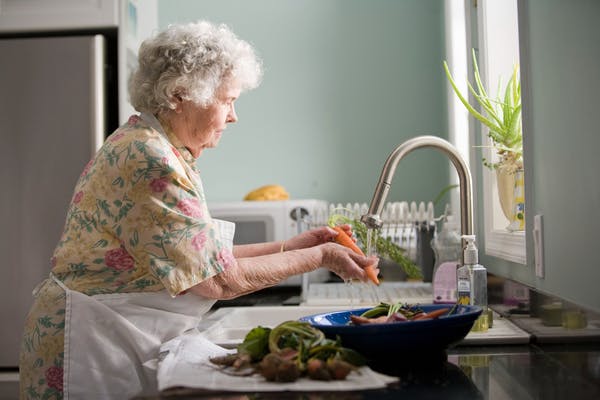 Although everyone has an opinion about the quality of care, few people are ready to work in the sector. The care of the vulnerable in our society – whether very young children, disabled people or the frail elderly – is terribly undervalued and underpaid.
If we value this work, we would expect the people doing it to have proper training, support and guidance from registered nurses and nurse practitioners. We would not ask volunteers or soldiers to do it. There would be better staff-to-resident ratios to allow time for care, not just for tasks related to keeping the body clean, dry, fed, and watered.
The aged care staff is currently set up to fail. But the real failure of the system is the lack of funding that prevents making the changes already demonstrated work better.
AUTHORS:
Davina Porock: Conversation friend. Professor of Nursing, Director of the Center for Research in Aged Care, Edith Cowan University
Jennifer Grieve: Associate Lecturer, Edith Cowan University
Pelden Chejor: Research Assistant, Center for Research in Aged Care, Edith Cowan University
This article is republished from The conversation under Creative Commons license. Read it original article.