As the National Disability Insurance Scheme has evolved, its individual funding arrangements have increasingly come under the microscope – but policymakers must also consider the needs of those who cannot access funding through the National Disability Insurance Scheme. regime bias, writes Sue Olney.
Australians with disabilities face a range of challenges in finding and accessing everything from goods and services to activities, jobs and places that are easily accessible to non-disabled people.
Public submissions to Australian Disability Strategy 2021-2031the royal commission in the violence, abuse, neglect and exploitation of people with disabilities, and many ask for information by the National Disability Insurance Scheme (NDIS) Joint Standing Committee illustrate this, highlighting the persistent barriers to the participation of people with disabilities in mainstream social and economic activities.
Over 500,000 Australians receive individual funding through the NDIS to purchase supports and services to meet their disability-related needs. They are called NDIS participants. This funding is not meant to be a oasis in the desert, however.
The inclusion of people with disabilities in mainstream society is an essential part of the NDIS insurance model. This can prevent, reduce or delay the need for people with disabilities to access specialized disability services and individual funding through the NDIS, while improving outcomes for them and their families.
For this reason, the NDIS is also intended to help all Australians with disabilities – including 2.4 million people under the age of 65 – to connect with services and support beyond the program, and to help communities and mainstream service systems become more inclusive.
This work falls under "Tier 2" of the original three-tier structure of the NDIS, implemented as "Information, Linkages and Capacity Building" (ILC).
It currently includes a grant program administered by the Department of Social Services and – to varying degrees – community orientation and capacity building through a contract with the NDIS Local coordinators, under the supervision of the National Disability Insurance Agency. It does not work efficiently.
Its flaws can be assigned partly to poor policy design and underfunding, and partly to operational failure.
But the causes and effects of its shortcomings are inextricably linked to a broader governance environment over which it has limited influence.
Markets and core government services have demonstrated that in some circumstances they are unwilling or unable to bear the costs of providing services to people with disabilities or accommodating them to meet their needs.
There are lingering questions about the relationship between the NDIS and key policy areas like health, education, employment, transport, housing and aged care, and the interface between the ILC and Australian Disability Strategy 2021-2031. There is no doubt that this is difficult ground for governments to navigate, but it cannot stay in the basket too difficult.
Level 2 of the NDIS is essential for two main reasons.
First, the financial sustainability of the NDIS depends on the ability of people with disabilities to access mainstream services and activities.
Second, there are people with disabilities who are not NDIS participants who need dedicated support, in the face of entrenched socio-economic disadvantage, to maintain their well-being and the well-being of their families.
They include individuals who may be eligible for individual NDIS funding who Face obstacles to successfully applying for admission to the program, people with disabilities who are not eligible for the program Criteria who have lost access to services and supports previously block-funded by Commonwealth, State and Territory governments, as well as people living in places where affordable and accessible services, housing options, technology and job opportunities are limited.
NDIS Level 2 is an under-examined, high-risk and complex political environment that shapes the life course of some of Australia's most marginalized citizens, with significant social and economic costs. Without intervention, this will generate significant increases in NDIS costs. Policy makers must intervene.
The Melbourne Institute for the Disabledwith the Confrérie de Saint-Laurent and Baptcare, was research whether and how working-age Australians with disabilities who do not participate in the NDIS find and use the support and services they need to participate in society and the economy.
There are approximately 1.8 million Australians with disabilities in this group – 12% of the Australian population working age population. Our soon-to-be-released findings, drawing on multiple sources of data collected in three states, are grim.
They reveal a gap between the promoted availability and accessibility of disability supports and services without NDIS funding, and the experiences of people trying to find and use them.
They point out that the investment in the ILC does not meet the needs of people with disabilities who do not participate in the NDIS, and that support and community capacity building through the local coordinators – promoted by both the NDIS and the Department of Social Services – are not provided.
They highlight inequities and inconsistencies in costs and access to general and disability-related services, as well as unmet demand for services, leading to heavy reliance on family support. They also point to a worrying "dual engine" of future government costs. If people with disabilities and their families are unable to afford or access support to maintain their well-being and deplete their personal resources to the point of crisis, they will ultimately require higher levels of support from the community. from the NDIS and other government departments.
The overwhelming majority of Australians with disabilities are not NDIS participants. Yet, for the most part, the knowledge, experiences, needs and priorities of these people, their families, caregivers and advocates, and those who interact with them in the community, are not reflected in policies and practices.
The data needed to illuminate service gaps and overlaps, encourage best practice, and address structural barriers to disability inclusion is gathered from multiple sources with competing interests, and information on costs and benefits of political action in all jurisdictions are incomplete. The risks of misreading this environment are high.
J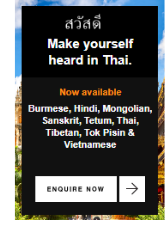 Attention to date has – understandably – focused on issues surrounding individual funding of the NDIS for people with permanent and significant disabilities. But these issues are compounded by the continued marginalization of people with disabilities from mainstream social and economic activity, reduced access to services and support outside of the NDIS, and the shifting of costs between governments and service systems.
The sustainability of the NDIS depends on the support of the whole of government at Level 2. For the sake of the millions of Australians affected by the program, and above all, the people whose lives depend on access to services and support. Cannot not be ignored.